Availability for all applications and data 24/7/365
Veeam Availability Suite
For businesses of any size
Veeam Availability Suite™ delivers 24/7/365 access to data by combining Veeam's industry-leading backup, restore, replication and monitoring capabilities into a single solution.
By leveraging existing IT investments, Veeam provides everything organizations need to reliably ensure Availability and manage their modern data center while saving time, mitigating risks and dramatically reducing capital and operational costs.
Product Overview
Veeam Backup Essentials
For small businesses
Veeam Backup Essentials™ is a powerful, easy-to-use and afford-
able backup and Availability solution for small businesses.
Designed for virtual environments with up to 6 CPU sockets, Veeam Backup Essentials delivers enterprise-level functionality at a savings of up to 60% or more! This affordable, worry-free solution provides the automation and reliability small busnesses need most.
Product Overview
More than 183,000 customers worldwide and 10.6 million VMs protected
Meet SLAs for RTPO™ < 15 minutes for ALL applications and data
Backup vs. Availability
Looking for 24/7/365 access to data and applications? Don't risk using legacy backup
Most legacy backup solutions were built in the 1980s when RTOs and RPOs of days and weeks were okay. Over time, these solutions were retrofitted to support new technologies, making them inefficient, hard to manage and definitely not optimized for cloud, advanced storage and virtualization.
Veeam Availability Suite™ is a fundamentally new solution built for today's Always-On Enterprise™. Veeam's Availability solutions deliver easy IT operations, protection from unexpected downtime and unmatched performance with RTOs and RPOs of less than 15 minutes for ALL applications and data.
*Source: ESG Customer Insights Research, February 2014
Moving from typical legacy solutions to Veeam within a virtualized enterprise environment yields an estimated 247% ROI over a 3-year period, with a 15-month payback period.
Checkout the ESG Economic Value Analysis to learn more about relative costs and benefits when comparing Veeam Availability Suite to legacy alternatives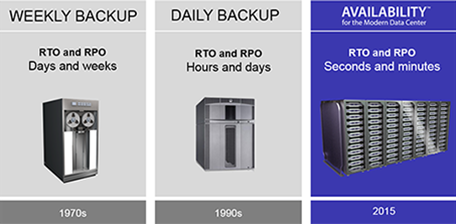 Data Protection Evolution
ESG Economic Value Analysis
Veeam helps organizations like yours make the most of your data center investments by providing:

High-Speed Recovery:
Rapid recovery
of what you want,
the way you want it
96% of Veeam recoveries are within RTO SLAs, compared to 78% for other solutions

Verified Recoverability:
Guaranteed recovery of every file, application or virtual server, every time
71% of Veeam customers report improved reliability of backups compared to other solutions

Complete Visibility:
Proactive monitoring and alerting of issues before operational impact
71% of customers using Veeam monitoring and reporting tools say their risk awareness has improved compared to other solutions

Data Loss Avoidance:
Near-continuous data protection and streamlined disaster recovery
83% of Veeam customers are more confident in their backup than with previous solutions

Leveraged Data:
Using backup data to create an exact copy of your production environment
84% of Veeam Virtual Lab users save time by avoiding deployment problems
Register for product demo
Live or recorded session for with an Engineer