May 2016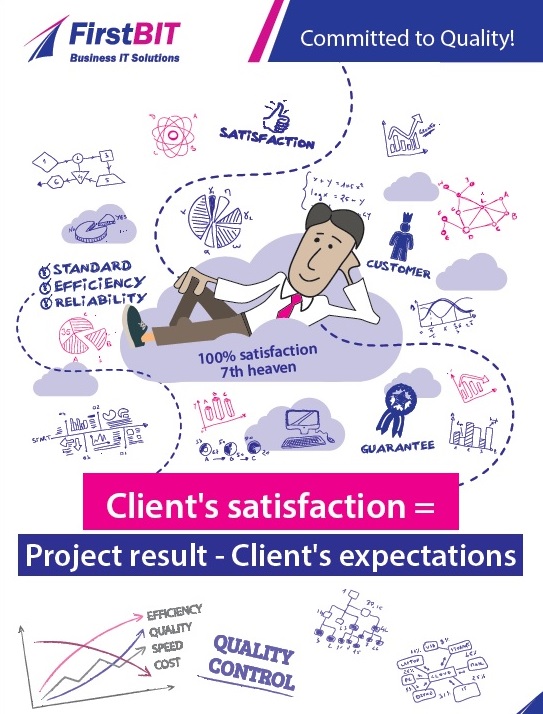 Interview with Nick Galdin, Head of Quality Management Department at technopeak.
When discussing quality, many company managers keep saying, "We work for the client and with the client's needs in mind." And the client naturally wonders, "How exactly do you work for me? What your idea of quality IT services is about?" In the end, the client doesn't care how this high quality of a product or service has been achieved – but it's a nice thing to know, especially when choosing a partner or a contractor in the highly competitive IT market.
Some key points concerning our quality policy can be found in this interview.
As global trends suggest, customer expectations of the quality and scope of services are constantly rising. What clients used to give three months to accomplish they now require to be finished in one week, etc. Nick Galdin speaks about his quality management work at the IT company that specializes in accounting systems integration – and about his own take on this well-known concept, based on the experience of more than 150,000 implemented projects of various scale and complexity.
Quality is a shared responsibility of all employees
- In your company, what are the main criteria for defining quality?
- To begin with, it's the international standard ISO 9001:2008, with which we comply, as well as our internal guidelines. This year we are planning to adopt the new standard ISO 9001:2015. This new version is particularly focused on the risk-oriented mentality, and currently only a few companies have adopted it. According to this standard, risk management is not a luxury but a prerequisite for any process or action. This way our clients will be better protected. It's also important to keep in mind that an advanced quality management system doesn't mean we have a lot of quality issues – on the contrary, it means we have a safety net to catch them.
The standard also includes a well-defined concept of leadership, meaning that the senior management is expected to be proactively client-oriented. At our company, thinking of the client is a part of every business process. technopeak's entire philosophy and policy revolves around this. And it's everyone's responsibility.
- What quality criteria apply to the employees?
- At technopeak, the foundations of delivering quality work start with three simple pillars of equal importance:
The first is the knowledge of the client's business field the scope and company structure.
The second is being a professional and being knowledgeable about one's own area of expertise as well as about the IT industry in general. This also includes the ability to identify the client's needs and come up with the solution best for the client.
The third pillar is effective communication. Being able to develop rapport with clients, to actually hear what they say and respond quickly is paramount.
- What internal rules regulate quality?
- I'll name the primary ones. We make sure that our clients have direct access to our top management. Our team members regularly call branch offices as would-be clients and ask, "Can I speak to the executive director?" The usual response they get is a direct cell phone number or other contact information. If the exec is at a meeting, they get notified of the call and must return it later. This applies to all our offices at all levels.
We have two kinds of complaints that result in an employee's direct dismissal in any case. These are the long wait complaint when a particular task for the client hasn't been done on time, and the negligence complaint when someone "simply forgets" to get the job done.
Siding with the truth
- What are the key tasks the quality management service accomplishes?
- First, we monitor all interaction between the employees and clients and make sure our company delivers everything that has been agreed upon.
Second, our department collects and analyzes clients' feedback about the company products and services.
Third, we do our best to identify and anticipate clients' needs and assist other departments with doing the same.
- What do quality managers do in your company?
- Essentially, they are the client's representatives, directly motivated to protect the client's interests. We have a Quality Manager in each region where we have business presence. This is a sort of a checks and balances system between the three branches of power that maintains the productive equilibrium. Quality Managers represent the client's interests. They are supposed to take the side of truth and analyze issues at hand, having enough power to influence an employee, a manager, or a process at any level.
When a complaint comes
- How does the quality management service deal with a complaint?
- First of all, our company can be reached by any means: the phone, the mail, the website.
If it's a phone call, the employee who picks up puts it through ASAP to the Quality Manager who, in turn, receives the complaint and starts working with it. If for some reason the client can't be connected with a Quality Manager right away, the operator must receive the complaint and pass it over to an employee qualified to deal with it. If the client wants to talk to Anton Dolgov, technopeak Director General, the call center reps must put the call through to him as the situation permits. And it's worth noting that we record every complaint, totally.
- How do you respond to complaints that appear unreasonable?
- Our basic approach is that we work with every complaint. This includes even those that at first seem to be outside our area of responsibility.
- Are there other external signals that serve as markers for quality improvement?
- One concept we have is a potential complaint, the difference from an ordinary complaint being that the client isn't asking to correct the situation, simply noting the flaw. For us it's a good reason to start thinking and take preventive steps before the risk develops further. That's why we at technopeak always appreciate any customer feedback – it's not just good business ethics but an entire methodology of quality management.
The client presence effect
- How do clients impact quality?
- We value each customer, no matter which of our services or products they use. There is another factor - the project's scale. With larger projects the client's involvement becomes more important. System modernization is seldom successful without active decision-making – and usually our clients are top managers and decision-makers. So if this client doesn't get involved enough with the project, it'll be practically impossible to achieve a good result. The same is true for the situation when in the middle of system implementation the client makes changes to the company business processes without letting us know.
For these reasons, when it comes to major projects, right off at the negotiations stage we try to figure out the client's willingness to communicate closely. It's important first and foremost for the client because reaching the client's objectives successfully depends on it.
- What if it's a simple task?
- Simpler issues are easily resolved without the client's involvement, middling ones are harder, and so on. In other words, the more complicated the task, the more client's involvement is needed for success. Of course, in this case we must do our part – be prepared to explain the project's details and provide methodological support. The No.1 goal is to set up and maintain constant contact with the client. This is directly related to our philosophy.
- So, involvement - is it a way to control or divide responsibility?
- Not at all. We never shift responsibility onto our clients or partners. As for control, back in the days Henry Ford said, "Quality means doing it right when no one is looking."