First BIT is a Certified
Gold
Bitrix partner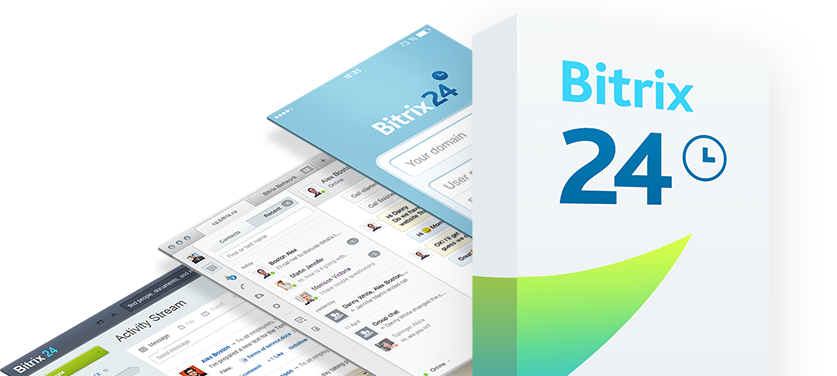 Free collaboration suite with 35+ tools
Bitrix24 is a complete suite of social collaboration, communication
and management tools for your team.
Bitrix24 replaces a large number of collaboration tools, providing
a single work zone for all your projects, contacts, files, phone calls
and even emails!
For managers
- it is the transparency of the company
and all processes.
For employees
- easy tool to improve performance.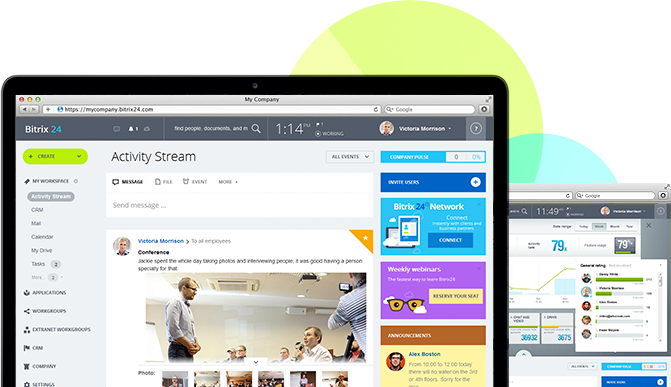 Bitrix24 is a Cloud & Self-hosted intranet solution which handles
the many aspects of daily operations and tasks.
Main Features:
Social Intranet
Posts In Activity Stream
Tasks & Projects
Workgroups
CRM System
Instant Messages
Video Calls
File Sharing
Calendars
Reports & Monitoring
Document Management
Meetings & Briefings
Workflows
Work Reports
Telephony
Company Structure
Employee Directory
Time Management
Mail
Mobile App
More, lots more!

Social Network for Business

Project Management & Tasks

Group Chat & Video

Document management & Bitrix24. Drive

Calendar & Planning

Email

CRM

Telephony

HR

Business Process Management & Workflows

Mobile

More, Lots More

800 000+ organizations
are already using Bitrix24
225
countries
8
languages
Leverage your Bitrix24 with First BIT,
Certified Gold Partner of Bitrix.
First BIT is the only Certified Gold Bitrix partner in the Middle East and Africa, and the largest Bitrix partner in the world.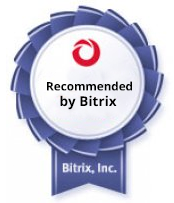 our sevices
First BIT is offering a set of services that can help you create
and manage your Bitrix24 intranet:
Setup and implementation
Assistance with choosing a Bitrix24 subscription plan that fits the client's needs best.
Hardware, operating system, and Bitrix24 solution configuration services provided by specialized experts.
Installation of Bitrix24 on the server or deployment in the cloud, including basic configuration.
Fine-tuning and additional functionality configuration, including development of additional modules needed for business process automation.
Corporate portal setup and access rights allocation to employees according to the organizational structure of the company.
Development of a unique Bitrix24 Corporate theme.
Integration setup (e-mail, cloud PBX or office-based IP PBX and other systems connectivity).
Configuration of directories, custom fields, and e-mail templates.
Data import into the CRM (Companies, Contacts, etc.).
And much more, including non-standard solutions as per client's specific requests.
User training and advice
Introducing Bitrix24 (User Package) Aimed at setting up user working environment, including Favorites, Drive, Mobile App, Live Feed, Tasks, Groups, Email configuration.
Executive user training (Leader Package) User Package + Salesperson Package + Work history, Reports, and Analytics. Configuration of company structure, user access rights, customer relations stages, offers, billing, sales lead forwarding from a catch-all email address and the website feedback form, email outbox options for employees, custom user fields.
Corporate portal administration training (Portal Administrator Package) Configuration of company structure, user access rights, customer relations stages, offers, and billing. Sales lead forwarding from a catch-all email address and the website feedback form, email outbox options for employees, custom user fields.
Individual business process training (e. g., Salesperson Package) User Package + CRM: processing Leads and converting them into Deals; Contacts, Companies, preparation of Offers and Billing.
Bitrix24 system maintenance and support
usiness analyst services aimed at business process development and optimization.
Business process modifications If the portal was initially installed by a company other than First BIT, we will perform an audit of the equipment, the environment, and the Bitrix24 portal itself before starting maintenance work.
Individual consultations.
Report preparation.
Interface configuration.
Fine-tuning of existing modules.
Bitrix24 helpdesk.uests.
HOW DO WE WORK
With the implementation done by experienced professionals in a cost-effective manner, you will be able to take advantage of Bitrix24 functionality to the fullest as it meets your company's requirements,
making your investment more than worth the while.
Milestones of Bitrix24 implementation by First BIT:
Survey of your company operation. Requirements gathering. Adaptation of best industry practices.
Linking business goals to software functionality. Scope of work assessment in close contact with client .
Implementation roadmap development and critical milestones specification
Configuration of the Bitrix24 portal so as to reflect the organizational structure of your company and to assign user access rights to the employees according to this structure.
Fine-tuning of the functionality set by adding new features and developing custom modules as necessary for business process automation and reaching your other objectives.
Deployment and installation of Bitrix24 on the server or in the cloud followed by basic technical setup.
Conducting training sessions for administrators and ordinary users. Prepare user manuals.
Optional technical support provided via email, phone or on-site technician visit.
Our advantages
The benefits of the installation performed by First BIT
18 years in system integration

We have an extensive experience in deploying and integrating comprehensive automation systems, as well as in software development and other technical services to satisfy all our customers' needs.

Technical support and functionality fine-tuning

We will select Bitrix24 tools that precisely cover the requirements of your company. If there is no ready-made solution that fits your needs, we will develop custom modules for your project. After deploying the solution, we will provide maintenance and technical support services.

Reliable partner

First BIT is the largest Bitrix partner in the world and the only Bitrix Gold Partner in the Middle East and Africa. As a Gold Certified Partner, First BIT guarantees the highest standards of quality, service, and reliability.

Market leadership

We are the leaders in total sales and complexity of Bitrix24 customization projects. Our support specialists are well equipped to ensure smooth operation of your Bitrix24 installation.

Global IT company with European roots

70 branch offices within 5 countries and an international team of more than 5,000 professionals.